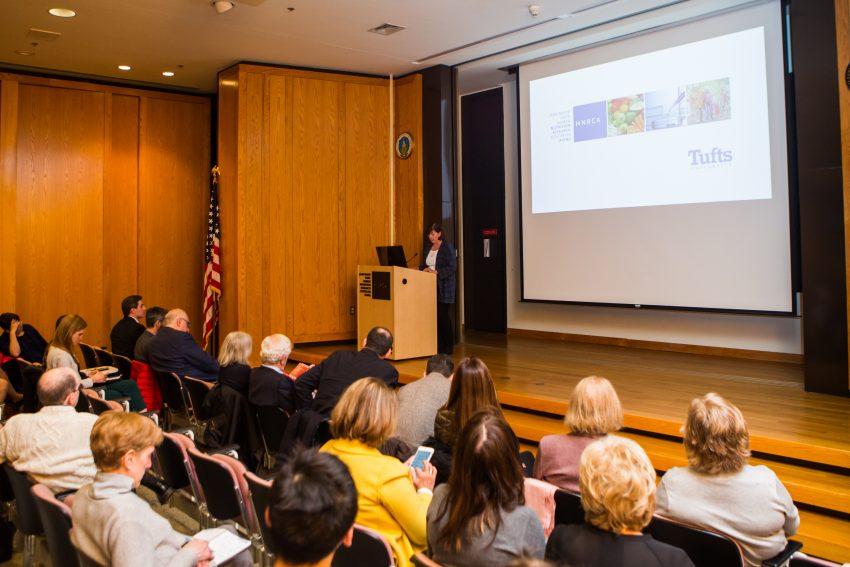 Each Monday at 12 noon ET, a prominent research scientist working on topics related to aging and nutrition presents their latest research through the HNRCA Monday Seminar Series. The virtual lecture series is designed to bring researchers, faculty, and students together for learning and lively discussion. The lectures are open to members of the public interested in learning about current research topics taking place related to aging and nutrition. Registration is required.
Watch recordings of past HNRCA Monday Seminars on our YouTube channel here.
HNRCA Monday Seminar Series: Fall 2022
All session will be held via Zoom at noon, with the exception of our October 24th seminar which will be held in-person at the HNRCA. 
Date: September 19th
Speaker: Ai-Ling Lin, Ph.D.
Professor & Vice Chair for Research of Radiology, University of Missouri
Alzheimer's disease mitigation: AI, neuroimaging and gut-brain axis
Date: October 3rd
Speaker: Jenni Firrman, Ph.D.
Molecular Biologist, USDA ARS Eastern Regional Research Center Dairy and Functional Foods Research Unit
Studying the Gut Using In Vitro Methods
Date: October 17th
Speaker: David Wishart, Ph.D.
Distinguished Professor, Departments of Biological Sciences and Computing Science
University of Alberta
Applications for Metabolomics to Nutrition and Food Sciences
Date: October 24th 
Speaker: Bruce Y. Lee, M.D., MBA
Executive Director, PHICOR, CATCH, & AIMINGS
Professor, CUNY Graduate School of Public Health and Health Policy
Use of artificial intelligence & modeling to inform nutrition for precision health
Date: October 31st
Speaker: Michael Snyder, Ph.D.
Chair, Department of Genetics, Stanford School of Medicine
Director, Center for Genomics and Personalized Medicine
Big data for understanding lifestyle and managing health
Date: November 7th
Speaker: Helen Roche, Ph.D.
Director UCD Conway Institute
Full Professor of Nutrigenomics, UCD Conway Institute/UCD Institute of Food & Health
University College Dublin
Title TBD
Date: November 14th 
Speaker:  Anne Marie Minihane, Ph.D.
Professor of Nutrigenetics, Head of Nutrition and Preventative Medicine
Norwich Medical School, UK
Director of Norwich Institute of Healthy Aging
Fish, omega-3 fatty acids and neurocognitive health: More than just a fishy tale?
Date: November 28th 
Speaker: Diana Thomas, Ph.D.
Professor of Mathematics, U.S. Military Academy West Point
Research Associate, Columbia University New York Obesity Research Center
Associate Professor, Pennington Biomedical Research Center
Metabolic Response to Meal Challenges
Date: December 5th 
Speaker: Pankaj Kapahi
Professor, Buck Institute for Research on Aging
Adjunct Professor of Gerontology, University of San Francisco
Lowering glycation reduces food intake, improves insulin sensitivity and extends lifespan